Ah-Q
"AH-Q" JAZZ BAND
sundays 6:30pm-8:30pm
The Ah-Q Jazz Arkestra performs an eclectic mix of straight-ahead, modern, funk and Latin jazz compositions, including many Ah-Q originals. Mixing different styles and influences and "stretching" in creative improvisation to "dance on the edge" is the band's trademark.
Sunday Dinner Jazz
Every Sunday at Eudora Station from 6:30pm-8:30pm, enjoy world-class contemporary jazz from some of Beijing's top jazz musicians. Activity time: Sundays 6:00PM-8:00 PM Venue: Live performance area (Roof Top Garden, Music Room or Back Garden) Sundays 6:00PM-8:00 PM, in the Jazz performance area, order any Appetizer+salad(or soup)+Maincourse combination and enjoy the wine tasting for free,plus 15% discount.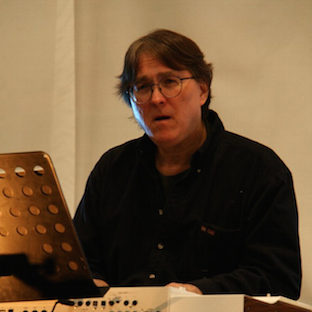 David Moser - Keyboards
Jazz educator, composer and performer David Moser graces the Ah-Q Jazz Arkestra with his light touch and contagious sense of humor. David has contributed many beautiful compositions to the Ah-Q Jazz Arkestra repertoire, including Quiet, One at Three, and Pool. David also plays trumpet and guitar.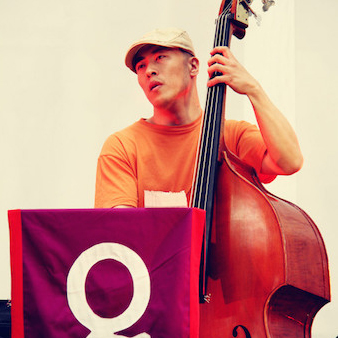 Da Zhong - Bass
Ah-Q Jazz Arkestra bassist Da Zhong is in high demand as one of the most versatile and creative bassists on the Beijing jazz scene. Playing both upright and electric bass, Da Zhong is known for his dry wit and understated grooves. Pursuing his passion for music, Da Zhong began studying bass at the age of 20, studying with Beijing bass masters Yu Hui, Zhang Ling, Huang Yong and Liu Yue. In 2007, Da Zhong participated in the China Music Gold Cup Pop Music Competition with "Dew Electrio", winning the gold prize. Da Zhong has performed over the years in numerous bars and performance halls, participated in many music festivals and domestic and international workshops, and has worked on teaching demos for China's renowned "Modern Musician" magazine. He has taught at the Modern Music Academy in Beijing since 1997.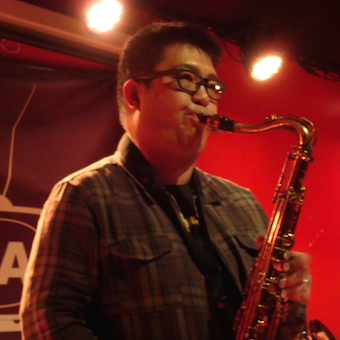 Liu Xiaoguang - Saxophone, Flute
Ah-Q Jazz Arkestra saxophonist Liu Xiaoguang, also known as Kenny, is one of the hottest players on the China jazz scene. Born in Inner Mongolia in 1979, Xiaoguang started playing classical guitar as a child, later switching to saxophone at the age of 15 when admitted to the Inner Mongolia School of the Arts. He started learning jazz a few years later, moving to Beijing in 1999. He joined the Canglang band led by Mongolian singer Teng Ge Er (playing keyboard) in 2001, then in 2002 joined the Beijing City Big Band, led by jazz pianist Xia Jia. In addition to fronting the Ah-Q Jazz Arkestra, Xiaoguang has played with a number of leading musical ensembles, including the Red Groove Funk Band led by guitarist Lawrence Ku, Modern Pop led by Jia Yinan, pianist Christophe Lier's New Glucose Octet, the Bad Boys Electronic Jazz Unit, Haya, and Chinese folk band Xiao Juan and the Residents from the Valley (on flute and harmonica). Xiaoguang has also worked with a number of musicians, including Lin Yifeng, Ye Jiaxiu, Lao Lang, Sun Meng, Yu Quan, Chen Chusheng, Shang Wenjie, Jiang Jianmin and Zuoxiao Zuzhou.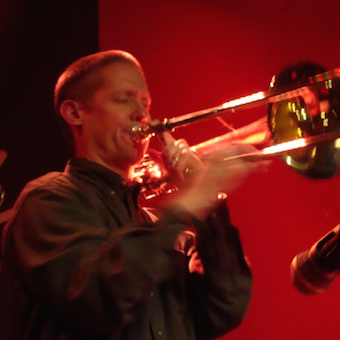 Matt Roberts - Trombone
Ah-Q Jazz Arkestra trombonist Matt Roberts, who hails from the Philadelphia area, first came to China in 1987 and has been playing jazz in China since 1990. Inspired by life-changing performances during his college years with the legendary Sun Ra, Roberts has performed with a number of jazz and funk outfits in Beijing in Shanghai over the last twenty-some years, including the ALAS Jazz Band (1991), Left Hand Jazz Band (1994), Five Guys on a Train (Shanghai, 1995), Rhythm Dogs (1996), Funk Puppies (1997), BJ Funky (1998), Skylight (2002), Liu Yuanr Quintet (2001-2006) and the New Glucose Octet under the leadership of pianist Christophe Lier (2004-2007). Roberts is one of the founding members of the Ah-Q Jazz Arkestra.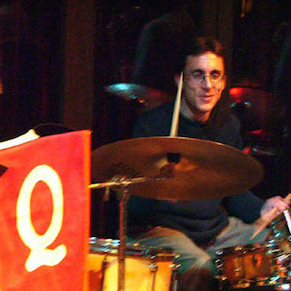 Scott Silverman - Drums
JHailing from the U.S., Ah-Q Jazz Arkestra's drummer Scott Silverman started playing drums when he was four years old and has played professionally since age 12. After moving to China in the mid-1990s, Scott was a founding member of Five Guys on a Train, one of Shanghai's first modern jazz bands. Now based in Beijing, Scott performs regularly with many of the city's top jazz musicians.